We've detected you are using a browser that is missing critical features.

Please visit craigslist from a modern browser.
There was an error loading the page; please try to refresh the page.
Warehouse Workers Wanted! Earn $12 to $20 per Hour
compensation: Hourly compensation between $12-$20

QR Code Link to This Post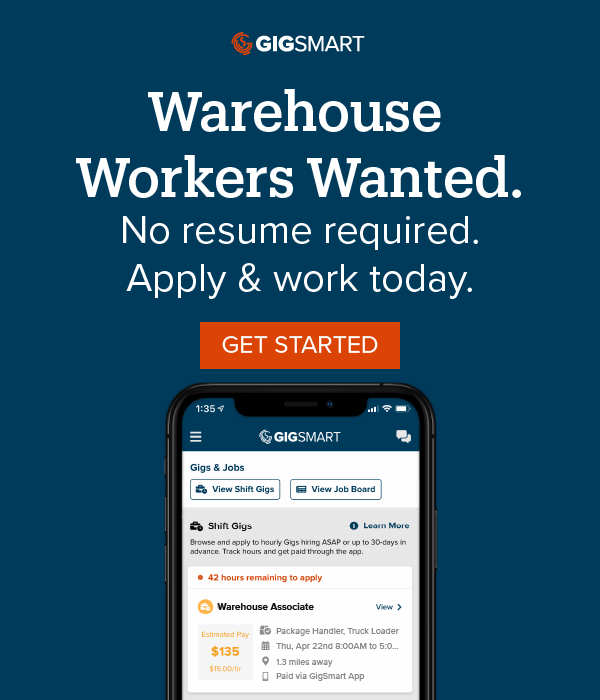 GigSmart is immediately seeking reliable workers on behalf of its clients seeking warehouse workers in the Washington D.C. metro area. These temporary assignments could lead to permanent placement for trustworthy candidates who work hard and have a good attitude.

Depending on the shift, pay rate ranges from $12-$20 per hour. You can apply to work as many shifts as you want. The pay is guaranteed, and shifts are available TODAY!

Responsibilities of an warehouse worker may include:

- Completing shipments by processing and loading orders, preparing order by processing requests and supply orders; pulling materials
- packing boxes
- placing orders in the delivery area
- enforcing inventory controls
- providing quality service by following organization standards
- promoting a clean shipping supply area by complying with procedures rules, and regulations, - completing reports by entering required information
- keeping a safe and clean work environment by keeping shelves, pallet area, and workstations neat
- contributing to team effort by accomplishing related results as needed, and more.

Preferred Qualifications:

- Organized
- Ability to multitask
- Detail-oriented
- Prompt and reliable
- Hard working
- Ability to lift up to 50 lbs

Please click here to start your application.

About GigSmart:

At GigSmart, we are passionate about helping people find work. You can join the 300,000+ workers nationwide who are using Get Gigs to find and work hourly Gigs locally.

GigSmart's Get Gigs staffing app provides work opportunities to individuals across all industries. Whether you are interested in picking up hourly shifts, or you are seeking permanent employment, GigSmart connects you to open opportunities with the largest companies in the U.S. All Gigs are sourced through the Get Gigs app and come with the aid of our Staffing Support Team. Our Staffing Support Team will make sure you have everything you need to start working Gigs in your area!

To be considered, you must create a free Worker account on the Get Gigs app.

Click here to download the Get Gigs app from the Apple App Store.
Click here to download the Get Gigs app from the Google Play Store.

In addition, the Get Gigs app provides the following user benefits:

- Occupational Accident Insurance Coverage: coverage to protect you from an injury incurred on the job.
- Worker Benefits Portal: sign up for health, dental, vision, and life benefits.
- Quick Payment: Workers are paid within days of completing their first shift.
- Referral Bonus Opportunity: get paid to refer more users to GigSmart.
- Access Temporary Gigs and Permanent Job Opportunities: apply to local shift work or browse
GigSmart's Job Board to apply to part-time and full-time job openings.


Click here to apply now!
do NOT contact me with unsolicited services or offers