QR Code Link to This Post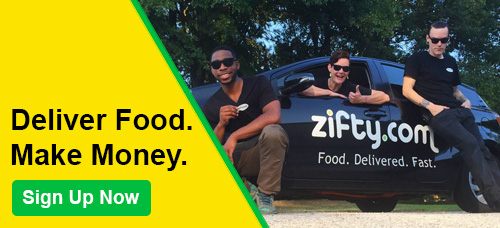 No passengers. No bosses. No schedules.
Just you delivering food around your city.
Sign up now and start making money within days!

Why Zifty?
Be your own boss. Work whenever your want, as much as you want
Earn up to $20/hour, including 100% of the tips. Zifty deposits into your bank up to 3x a week
Live, dedicated support team to help you when you need it, via chat or phone
How does it work?
When a restaurant requests a delivery, the request is matched to a delivery provider like yourself on the Zifty driver app. You then drive to the restaurant, pick up the items and deliver them to the customer. It's simple and easy!
Requirements
Be at least 21 years old
Valid driver's license
A reliable car with valid insurance (Sorry, no scooters, bikes, or motorcycles)
Great, customer service oriented attitude
Must have either an iPhone or Android phone

---
This is an independent contractor opportunity. Doing deliveries for Zifty is perfect for anyone looking for entry level work, seasonal work, temporary work, part time work or even those that desire a flexible full time opportunity. You are not an employee of Zifty, but are your own boss and work whenever you want. The more you drive and do deliveries, the more you can earn. Drive parttime or fulltime, it's your choice. Pay is deposited into your bank account up to three times a week. No previous experience as a delivery driver, transportation driver, taxi driver, truck driver, shuttle driver, or courier driver is necessary. We encourage those who have driven for (or still do) other on-demend delivery companies, such as GrubHub, Uber Eats, Amazon, Amazon Fresh, Caviar, DoorDash, Eat24, Favor, Google Express, Instacart, OrderUp, Postmates, Seamless, Shyp, Door Dash, or UberEats. Other related jobs are pizza delivery, rideshare or ride share drivers, as well as for college students needing college jobs that get cash fast or looking for an odd job to get quick cash. Zifty delivery providers are from all backgrounds and industries, job, gig, internship types ranging from retail, food and beverage, bartenders, customer service, creative industries, and general labor. If you are an actor, actress, admin, agency, artist, assistant, barista, bartender, broker, cab driver, cashier, chauffeur, cleaner, college student, customer service agent, chef, contract worker, cook, designer, dishwasher, dog walker, entrepreneurs, fitness trainer, food prep, food services, freelancer, handyman, hostess, insurance broker, instructor, intern, janitor, maid, maintenance, messenger, manager, management, musician, maid, office assistant, office administrator, photographer, private hire, professional driver, realtor, retail associate, sales associate, sales person, security, server, students, teacher, tutor, valet, veteran, waiter, waitress who is looking for a flexible part-time, full-time or summer gig, sign up to do deliveries for Zifty to supplement your income!